This week Where's My Backpack has focused her attention on photographs with a dominant colour, and has asked fellow bloggers whether they can contribute to the conversation with images limited to only one colour.
I browsed through the photos on my phone, looking to see if any stood out as being mostly monochromatic: No bingo. Then I thought of places I've travelled and whether I associated those places with a particular colour: That's a bingo.
Sydney: White
Photo Source: Lightbox Imageworks (gorgeous images from an Australian time-lapse and photography agency)
The white sails of the Sydney Opera House are iconic. When I think of Sydney I think of the harbour and the bridge but it's the architectural marvel of those white sails above that I will always associate with my hometown.
Vienna: Yellow
Photo Source: Around the World in 80 Clicks (inspiring travel adventures from Boris Kester who has ventured to 174 countries! at the time of posting. Woah!)
It was Boxing Day 1999 when I saw Sunshine with my mother and my grandfather (a man who if not responsible for, was certainly a great enabler of, my love of movies). The film follows three generations of the Sonnenschein family set against the fall of the Austro-Hungarian Empire. It's a superb film but one to discuss another time. After seeing the film mum was absolutely enamoured with the yellow that dominates Sunshine's cinematography. "Ah," said my grandpa, "that's Maria Theresa yellow. You'll find her colour all over Austria and Hungary." Which indeed we did when we toured the imperial cities of Europe the following year (our travels inspired by the film), and nowhere was the colour as captivating as Schönbrunn Palace (seen above).
Paris: Red
Photo Source: LitReactor (brilliant writing community and great resource for writers and readers alike)
Colour of passion, city of lovers. A perfect match, non?
Of my many Parisian memories coloured red (the awnings of cafes along wide avenues, ornate metro signs, and of course the Moulin Rouge) my fondest is of the multitude of red kisses that cover Oscar Wilde's tomb at Père Lachaise Cemetery.
Armed with Chanel (in New York Red) I, like thousands of others, made my Wilde pilgrimage and paid my (now thoroughly verboten) respects in 2007.
New York: Yellow
Photo Source: Allt om New York (Guide to NYC in Swedish)
What would the tourist traps of New York be without NYC yellow taxi merchandise to spruik?
Vientiane: Orange
Photo Source: Aspiring Imagery (gorgeous photography blog capturing the spirit of Laos and Indonesia)
From the robes of monks to the peeling paint of wats, I associate orange with Buddhism in Vientiane. The photo above is called "Line Dancer" and is found inside Wat Si Saket.
Ulaanbaatar: Blue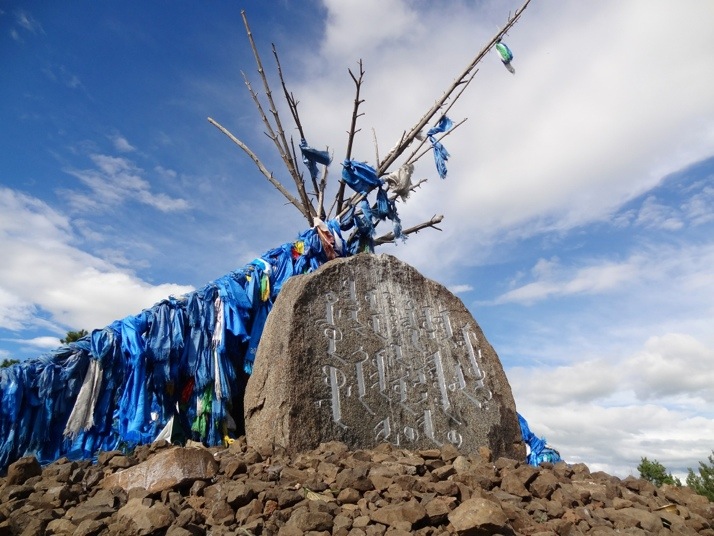 Photo Source: Two Year Trip (travel musings on Mongolia with lots of lovely photos)
Mongolia is known as the land of the blue skies, and with good reason. It may succumb to temperatures far, far below zero (try -40° during the depths of winter) and while there may be snow underfoot the skies overhead remain irrepressibly blue. During my multi-month stay in Ulaanbaatar (2014-15) the weather was certainly a challenge (mostly the smoke, but again, that's a tale for another time) but the constancy and lightness of the sky made the adjustment to the temperature much, much easier to bear.
Fun Fact: -40°C = -40°F